Our Mission
To help build and strengthen Alaskan infrastructure by providing the highest level of professionalism, innovation and quality craftsmanship. We are committed to working alongside our clients, owners, subcontractors and vendors as "Partners," in order to provide timely and cost-effective projects that add value to our communities.
Who We Are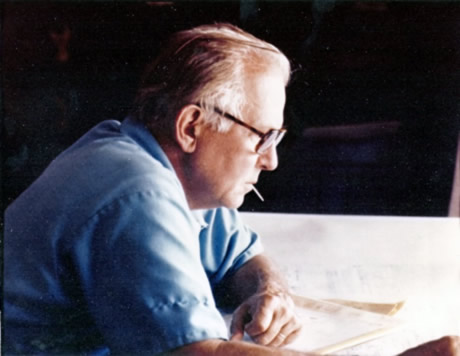 Al Wiederholt, founder of F&W Construction Company
F&W Construction Company, Inc. is a third generation construction company who has built a reputation based on safety, integrity and innovation. For more than 64-years, F&W has been delivering successful construction projects in some of Alaska's most remote and unforgiving locations. Based in Anchorage, our team brings value to our projects by working collaboratively with owners, design teams and subcontractors to meet the challenges of our projects and work proactively to maintain schedule and budget. Our multifaceted field crews have the capability to perform structural steel, pre-engineered metal buildings, structural concrete, modular construction and timber framed construction.
In addition to our building expertise, F&W has a firm grasp on the logistical and seasonal challenges we face living and working in rural Alaska. Our office and field crews are experienced in mobilizing materials and equipment by barge, aircraft and heavy-lift helicopter in order to reach these hard-to-reach project locations. Our knowledge and experience working in these areas helps to ensure our projects have the proper equipment, materials and man power to execute our work safely and efficiently.
Testimonials
Nathan Duval

Director, City of Valdez Capital Facilities

"F&W has completed work on our waterfront, hospital, and senior center. The projects were completed on time, within budget and produced a quality result. F&W's management team is cooperative and willing to work with the City of Valdez to solve problems and overcome challenges; I would not hesitate to work with F&W in the future."

Dave Brown

VP Mantech Mechanical, Inc.

"Our company has had the pleasure of working with F&W for over 15-years. During this time, we have worked on a wide array of projects including design-build, vertical construction, tenant improvement projects and many more. In every instance, we can expect F&W to maintain high levels of professionalism, quality and safety. "

Shawn Holdridge

Building Systems & Energy Sustainability Manager, Cook Inlet Housing Authority

"F&W Construction is an great construction contractor. They are competent and personable, complete projects on time and more importantly, bring a general willingness to work as a goal oriented team player in the construction process."

Doug Washburn

Contractor's Representative, FAA Anchorage Air Route Traffic Control Center

"F&W Construction – good company, very knowledgeable, experienced, skilled, safe, timely, fair and honest, customer oriented, good value. I look forward to working with them again."

Scott Brodt

Architect, McCool Carlson Green Architects

"The F&W Construction Team worked well with UAA and maintained a positive working relationship with them as they upgraded their facility. It was a collaborative effort. I can recommend F&W without reservation for whatever job they intend to pursue. I hope that we can work together in the future."